Stonewood Phenolic Claddings
Fiberesin Updates STONEWOODPANELS.COM with Additional Project Profiles and Technical Information:
As US builders and architects gain familiarity with the capabilities and aesthetics of solid phenolic rainscreen systems, more and more buildings are going up or being remodled around the country with Stonewood exterior cladding and interior wall coverings.
Sano and Associates represents the Fiberesin Stonewood Panel line in Kansas, Missouri, Oklahoma, Nebraska and Iowa.
Some key points about Stonewood Architectural panels are outlined below, but we encourage you to visit the freshly updated http://www.stonewoodpanels.com for more design inspiration and technical information.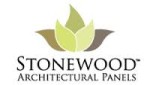 Stunning solid phenolic panels manufactured in America by Fiberesin Industries. Designed for use as an exterior open joint rainscreen panel or as decorative durable interior wall covering.
About Stonewood Panels
Stonewood Architectural Panels are solid phenolic panels manufactured by Fiberesin Industries, Inc. As durable as they are chic, versatile Stonewood Panels provide sturdy exterior open joint cladding as well as beautiful interior wall covering.
Ideal for a wide range of project types, Stonewood Panels are made to order with low minimum requirements of just 256 square feet.
All panels are proudly manufactured in the USA, ensuring exceptional product quality, competitive pricing and reliable, on-time delivery.
Stonewood Cladding Built to Last
Non-porous surface: easy to clean, graffiti and scratch resistant
Simplified long-term maintenance, replace singular panels as required
Highly impact resistant, ideal choice for heavy traffic areas
Available with Class A or B fire rating
Passed stringent NFPA 285 Standard Fire Test for wall assemblies.
Standard ten (10) year warranty
Straightforward Installation and Attachment
Attach using non-proprietary exposed fastener systems (exterior) or threaded fasteners (interior)
On-site or factory fabrication options
Self-edging or traditional edge treatments
Panels for Every Purpose
Division 07-42 Solid Phenolic Exterior Wall Cladding / Rain screen
Division 09 Finishes (Interior)
Suited for all construction types: commercial, hospitality, mixed-use, municipal, multi-family, healthcare and institutional
Interior panels optimized for use as elevator panels, soffits, entryways, lobbies, common areas and more
Environmentally Responsible
Proudly offered with Forest Stewardship Council® certification
Production energy sourced from in-house scrap materials
Please call us to get started on your next project today or order samples.  For more information and to explore the Stonewood Architectural Panel project gallery, visit Stonewoodpanels.com